Industrial Network
For industrial network, NDR provides specialized products and development services specific to networks within devices
EtherCAT master IP (Hardware)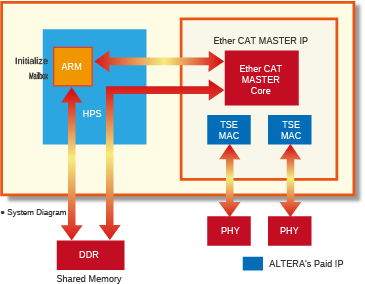 Emergence of Japan's first EtherCAT Master IP for high-performance SoC FPGA that reduces software load.
NDR has acquired the EtherCAT Hardware Master Technology owned by major industrial machinery manufacturers, and developed an IP for SoCFPGA, so that more users can use it flexibly. The FPGA hardware communication engine reduces the software load by providing a fast communication interval and stable communication cycle. The resources required for CPU processing can be allocated to applications and hence the software load fluctuations (including the addition of functions) will not affect the communication. In addition, by considering the form of the IP, it is also possible to mount directly on to the proprietary boards.
EtherCAT Master development using Open Source
Provides the EtherCAT master environment configured with open source so that EtherCAT evaluation, feasibility study and knowledge accumulation can be done at low cost.