Travel Guide Smartphone App
In collaboration with Nara Kofun & Heritage Foundation, we have developed a smartphone app "Nara Kofun & Heritage Tours", which enables you to enjoy a lot of the historical treasure, the tombs and archaeological sites of Nara, with our combined cloud x mobile solution technology.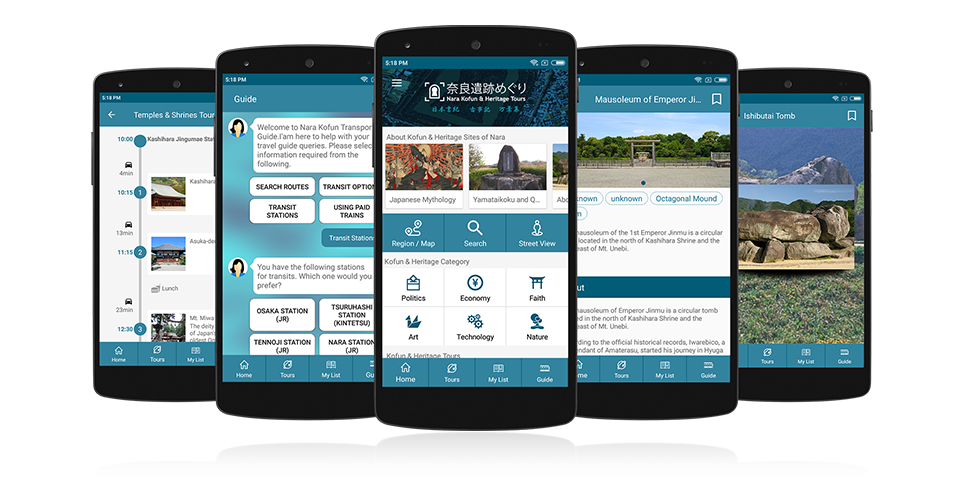 We have developed a smartphone app that allows visitors from outside the prefecture and foreigners to enjoy the sights and remains by simply displaying detailed information about heritages in Nara. Even if travelers do not have knowledge about the ruins and the tombs of Nara, the app allows such travelers like you to discover interesting cultural heritage according to the narrative guides of the provided themes and maps, and enjoy sightseeing of the ruins of Nara by themselves.
Features
The Nara Kofun & Heritage Tours is an application that you can explore and enjoy on your own about 300 (available currently) ruins, tombs and temples and shrines in Nara by using features such as themes, maps, search function with free phrases, AR and AI.
With cutting-edge IT technologies, such as navigation from the current location to the certain monument location in cooperation with Google Maps, stamp rally of visiting multiple sites using location information (GPS), AR feature enabling the user to see virtual images of past buildings and related people at some archaeological sites such as Makimuku Ruins, Asuka Palace Site, Ishibutai Tomb, Fujiwara Palace Site, etc. (several places now being implemented), and posting to social networks, the app makes it a pleasure to visit the ruins and tombs that is considered boring usually.
In addition, by using the chatbot feature that provides interactive guidance on how to use and transfer complex transportation systems in Japan, even unfamiliar people can easily go to destinations.
Since monument data and user information are stored and updated real-time in a database on the cloud, users can retrieve the latest information on their smartphones, and a administrator also gets statistical information such as frequencies of user visits to the ruins, so this app is representing our unique "cloud x mobile solution".
System requirements
Supported devices: iOS 8.0 or later (iPhone, iPad, and iPod touch); Android 7.0 or later
Language: Japanese, English
Target age: 4 years old or older